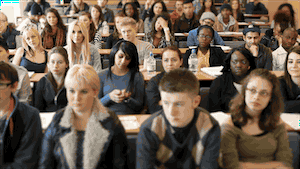 Understand Demand
Take control of your enrolment strategy.
Spend less time guessing and more time optimizing your enrolment.
 
Smart leaders don't guess
Back up your decisions with evidence based research and data. Conducting Program Feasibility Studies provides you with timely data to evaluate your program's potential, highlight opportunities, reveal challenges and understand your competition.
Get answers not templates
No boilerplate data here. We interview and consult the people who really matter to you - key industry experts and future students - so you can predict program success right from the start.
Academica's Program Feasibility Studies will help you:
1. CREATE BUY-IN
Get an external and objective 'big picture' view or delve into specifics to build a strong business case and avoid institutional bias.
2. SPEED UP THE PROCESS
Go from asking questions to getting answers - quickly. Our expert team of researchers ensure you have customized data and industry insights quickly and easily.
3. MAKE better DECISIONS
Get high quality, evidence-based research to help you plan future enrolment and program demand.
It's no wonder leading institutions make this part of their enrolment strategy.
Academica's custom Program Feasibility Studies include:
Competitor Review
Leverage competitor intelligence on institutions across Canada that offer the same or similar programming.
Industry Demand Analysis
Get a broad overview of trends, gaps and factors impacting the industry for future graduates.
Student Demand Analysis
Understand provincial application and enrolment trends among comparable programs.
Labour Market Projections
See employment and labour market information specific to your program and geographical location.
Job Market Analysis
Understand what skills employers are seeking today to inform what will be required of new graduates.
Student Survey
Understand your program's strengths and weaknesses before it's too late, based on input of those will ultimately determine program success or failure.
Shape your future enrolment
Rather pick up a phone?
No problem. Call: 1-866-922-8636 x 228
Our promise: An honest conversation that helps you reach your goals.